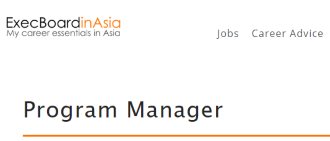 Program Manager IT Chennai
Job description
* The Program Manager will work with and guide a team of high performing Managers and their teams responsible for end to end pricing operations management of retail categories in various the company international marketplaces.
* The job involves end to end business planning including but not limited to creating annual plans and strategy for execution, ensuring operational rigor and designing high business impact processes.
* He/she will be the strategic point of contact to the retail teams of the company worldwide and must therefore be comfortable and confident liaising with remote teams and senior leaders.
* He/She will manage business impact via functional activities and will be accountable for designing and delivering on all KPIs of the same. The individual will interface and drive agenda with the automation technology teams to build scalable solutions and in addition he/she will be responsible for ensuring the safety, security and integrity of the company systems and data.
* The role involves influencing peers and stakeholders in other functions to achieve the operational and business goals assigned.
RoleProgram Manager
Industry TypeRecruitment, Staffing
Functional AreaIT Software - Other
Employment TypeFull Time, Permanent
Role CategorySenior Management