IPL 2021 - CSK VS RCB,
IPL - 2021, 60th Match CSK VS RCB
CSK Won by 69 Runs
MS Dhoni's Chennai Super Kings go top of the table with that morale-boosting victory over South Indian rivals RCB
What a fine show this has been from Chennai Super Kings and thanks to one man - Ravindra Jadeja, who single handedly took the game
Toss: Chennai Super Kings wins toss, opts to bat first against Royal Challengers Bangalore
CSK Playing XI: Ruturaj Gaikwad, Faf du Plessis, Suresh Raina, Ambati Rayudu, MS Dhoni (WK/C), Ravindra Jadeja, Sam Curran, Dwayne Bravo, Shardul Thakur, Deepak Chahar, Imran Tahir
RCB Playing XI: Virat Kohli (C), Devdutt Padikkal, Glenn Maxwell, AB de Villiers (WK), Washington Sundar, Daniel Christian, Kyle Jamieson, Harshal Patel, Navdeep Saini, Mohammed Siraj, Yuzvendra Chahal
End of CSK Innings: CSK 191/4 after 20 overs: What a finish by CSK - thanks to Jadeja's pyrotechnics with the bat. He smoked Harshal Patel for a four sixes in a row and got to his half-century in just 25 balls. A drop catch allowed Jadeja to take a couple and then the southpaw smacked Harshal for yet another maximum much to the delight of the yellow army. In the final ball, Jadeja whacked for a boundary making it a 37-run over as CSK finished on 191/4.
End of RCB Innings: RCB 122/9 (20.0 ov) - R/R 6.1 CSK Won by 69 Runs
Man of the Match, Ravindra Jadeja - 3/13 (4) & 62* (28)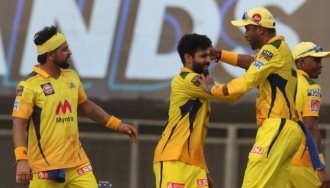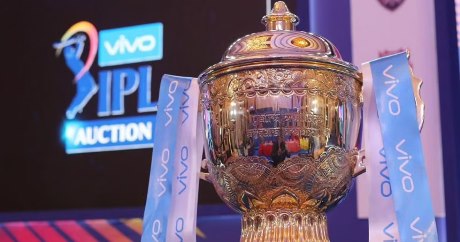 2021 Indian Premier League,IPL Cricket Match Full Schedule
IPL 2021: Full Schedule, Time Table, Fixtures, Match Timings and Venues.
VIVO IPL 2021 Schedule date is published officially. IPL 2021 has been scheduled between 9 April 2021 and 30 May 2021.
IPL 2021 opening match is set to be played between defending champion Mumbai Indians (MI) and Royal Challengers Bangalore (RCB) on 9 April 2021 in M. A. Chidambaram Stadium, Chennai.
IPL 2021 Final to be played on 30 May 2021 in Narendra Modi Stadium, Ahmedabad.
Here you will get the IPL 2021 Schedule, IPL 2021 Date, IPL 2021 Fixture, IPL 2021 Team, IPL 2021 Venue, IPL 2021 Date, IPL 2021 Time Table
| | | | |
| --- | --- | --- | --- |
| DATE | MATCH | TIME | VENUE |
| April 9 | MI vs RCB | 7:30 pm | Chennai |
| April 10 | CSK vs DC | 7:30 pm | Mumbai |
| April 11 | SRH vs KKR | 7:30 pm | Chennai |
| April 12 | RR vs PK | 7:30 pm | Mumbai |
| April 13 | KKR vs MI | 7:30 pm | Chennai |
| April 14 | SRH vs RCB | 7:30 pm | Chennai |
| April 15 | RR vs DC | 7:30 pm | Mumbai |
| April 16 | PK vs CSK | 7:30 pm | Mumbai |
| April 17 | MI vs SRH | 7:30 pm | Chennai |
| April 18 | RCB vs KKR | 3:30 pm | Chennai |
| April 18 | DC vs PK | 7:30 pm | Mumbai |
| April 19 | CSK vs RR | 7:30 pm | Mumbai |
| April 20 | DC vs MI | 7:30 pm | Chennai |
| April 21 | PK vs SRH | 3:30 pm | Chennai |
| April 21 | KKR vs CSK | 7:30 pm | Mumbai |
| April 22 | RCB vs RR | 7:30 pm | Mumbai |
| April 23 | PK vs MI | 7:30 pm | Chennai |
| April 24 | RR vs KKR | 7:30 pm | Mumbai |
| April 25 | CSK vs RCB | 3:30 pm | Mumbai |
| April 25 | SRH vs DC | 7:30 pm | Chennai |
| April 26 | PK vs KKR | 7:30 pm | Ahmedabad |
| April 27 | DC vs RCB | 7:30 pm | Ahmedabad |
| April 28 | CSK vs SRH | 7:30 pm | Delhi |
| April 29 | MI vs RR | 3:30 pm | Delhi |
| April 29 | DC vs KKR | 7:30 pm | Ahmedabad |
| April 30 | PK vs RCB | 7:30 pm | Ahmedabad |
| May 1 | MI vs CSK | 7:30 pm | Delhi |
| May 2 | RR vs SRH | 3:30 pm | Delhi |
| May 2 | PK vs DC | 7:30 pm | Ahmedabad |
| May 3 | KKR vs RCB | 7:30 pm | Ahmedabad |
| May 4 | SRH vs MI | 7:30 pm | Delhi |
| May 5 | RR vs CSK | 7:30 pm | Delhi |
| May 6 | RCB vs PK | 7:30 pm | Ahmedabad |
| May 7 | SRH vs CSK | 7:30 pm | Delhi |
| May 8 | KKR vs DC | 3:30 pm | Ahmedabad |
| May 8 | RR vs MI | 7:30 pm | Delhi |
| May 9 | CSK vs PK | 3:30 pm | Bengaluru |
| May 9 | RCB vs SRH | 7:30 pm | Kolkata |
| May 10 | MI vs KKR | 7:30 pm | Bengaluru |
| May 11 | DC vs RR | 7:30 pm | Kolkata |
| May 12 | CSK vs KKR | 7:30 pm | Bengaluru |
| May 13 | MI vs PK | 3:30 pm | Bengaluru |
| May 13 | SRH vs RR | 7:30 pm | Kolkata |
| May 14 | RCB vs DC | 7:30 pm | Kolkata |
| May 15 | KKR vs PK | 7:30 pm | Bengaluru |
| May 16 | RR vs RCB | 3:30 pm | Kolkata |
| May 16 | CSK vs MI | 7:30 pm | Bengaluru |
| May 17 | DC vs SRH | 7:30 pm | Kolkata |
| May 18 | KKR vs RR | 7:30 pm | Bengaluru |
| May 19 | SRH vs PK | 7:30 pm | Bengaluru |
| May 20 | RCB vs MI | 7:30 pm | Kolkata |
| May 21 | KKR vs SRH | 3:30 pm | Bengaluru |
| May 21 | DC vs CSK | 7:30 pm | Kolkata |
| May 22 | PK vs RR | 7:30 pm | Bengaluru |
| May 23 | MI vs DC | 3:30 pm | Kolkata |
| May 23 | RCB vs CSK | 7:30 pm | Kolkata |
| May 25 | Qualifier 1 | 7:30 pm | Ahmedabad |
| May 26 | Eliminator | 7:30 pm | Ahmedabad |
| May 28 | Qualifier 2 | 7:30 pm | Ahmedabad |
| May 30 | Final | 7:30 pm | Ahmedabad |
IPL Tickets 2021 Booking Online
Not yet started