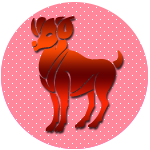 Aries traits,Mesh Rashi मेष राशि characteristics
Indian Astrology - Rashi Mesha Characteristics
Mesha Rashi (Aries) is the first astrological sign in the zodiac, spanning the first 30 degrees of celestial longitude, and originates from the constellation of the same name. Under the tropical zodiac, the Sun transits this sign from approximately March 20 to April 21 each year.
Wikipedia
Ruling planet: Mars
Element: Fire
Start Date: March 20
End Date: April 19
Birthstones: Topaz, Aquamarine, Heliotrope, Jasper, Diamond

General Characteristics of Aries Moon Sign born
Aries is ruled by Mars, Sun is exalted in this sign, Saturn is debilitated. Persons born under this sign possess lean and muscular body, middle stature, long face and neck, broad head and narrow chin. They have bushy eye brow, rough or wiry hair. Arians are ambitious, rash in temper and of aggressive nature. They enjoy good health and have power of resistance for the diseases. Arians are not meant for amassing wealth. They are impulsive in action, extremely frank and enthusiastic in love. They are good friends and excellent hosts. Love their home and family. Professions connected with Army, Chemist, Police, Machines, Industry or Medical best suite them. They are strong and energetic but also innocent. They are the first sign of the Zodiac and are often very bold, simple, and candid and speak from their heart.

They may have weak knees and are allergic to suffocation of closed chambers. Many of them are water phobic. They like to stick to the profession or job they do. They may sometimes be acknowledged as friend offenders in the society because they don't open up with their likes and dislikes. They usually have fewer children. They are gluttonous.

Bollywood Stars Ajay Devgn, Emraan Hashmi, Rani Mukerji, Lara Dutta who are Aries
B-town Men: Aries men love anything that is new, innocent and enjoy deep shades such as red, black. The creative bollywood Aries actors are Amitabh Bachchan, Ajay Devgn, Emraan Hashmi, Arshad Warsi, Aamir Khan, Kapil Sharma, Akshaye Khanna, Armaan Kohli, Jeetendra.
B-town Women: Aries women enjoy bold colors similar to the Aries men and enjoy a bouquet of daffodils, wild lilies (in case you are planning to send flowers to your fave actress) The peppy Aries women are Rani Mukerji, Chitrangada Singh, Kangana Ranaut, Lara Dutta, Parvani Babi, Jayaprada,Emran Hashmi ...
This Rashi includes Ashwini, Bharani, and the first Charan of Krittika Nakshatras.
Lucky Day: Tuesday
Lucky Numbers: 9, 18, 27, 36, 45, 54, 63, 72
Lucky Colours: Saffron and all shades of yellow
Lucky Gemstone(s): Ruby, Yellow Sapphire
Lucky Talisman: Metal Copper
Compatible Signs: Leo, Sagittarius, Gemini, and Aquarius.
Aswini star in tamil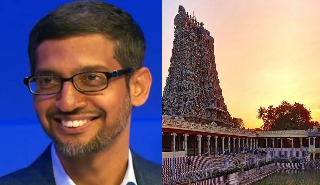 Birth Chart of Sundar Pichai,Biography
Sundar Pitchai
Born : June 10, 1972, Madurai, Tamil Nadu, India
Education: IIT Kharagpur (BTech),Stanford University (MS)
University of Pennsylvania (MBA)

Occupation: Businessman,
Title CEO of Alphabet and Google
Board member of Alphabet Inc,
Magic Leap (2014–2018)

Spouse : Anjali Pichai
Children :2

Birth Chart of Sundar Pichai
Rashi is Taurus (Moon in Taurus)
Birth Nakshatra is Krittika
Ascendant is in Virgo
Rising Nakshatra is Chitra

What is the Moon Sign of Sundar Pichai?
Moon Sign of Sundar Pichai is Taurus.
The Moon is placed in the sign of Taurus in birth chart.
And Moon is in Krittika Nakshatra.

What is the Sun Sign of Sundar Pichai?
Sun Sign of Sundar Pichai is Taurus.
The Sun is placed in the sign of Taurus in birth chart.
And Sun is in Mrigashirsha Nakshatra.
(This is Indian Sun sign not the western Sun sign. The main difference between two is - Indian sun signs are based on position of sun in zodiac, and is more accurate over western, which depends on date of birth.)
Taurus (Vrishabh)
The person is slow and steady. Obstinate in nature, fond of pleasures, hard worker, fond of music and arts, likes good food and female company. He is sociable and intelligent.
He is happy, intelligent, good looking, has well built body and is fond of opposite sex. He is happy in middle and old age of life. He is rich, patient, inconsistent, has wavering mind, is fond of eating and drinking, he is popular in public and passionate.
Pichai was born in Madurai,Tamil-speaking family.
His mother, Lakshmi, was a stenographer, and his father, Regunatha Pichai, was an electrical engineer at GEC, the British conglomerate.
His father also had a manufacturing plant that produced electrical components.
Pichai completed schooling in Jawahar Vidyalaya Senior Secondary School in Ashok Nagar, Chennai and completed the Class XII from Vana Vani school at IIT Madras.
He earned his degree from IIT Kharagpur in metallurgical engineering and is a distinguished alumnus from that institution. He holds an M.S. from Stanford University in materials science and engineering, and an MBA from the Wharton School of the University of Pennsylvania, where he was named a Siebel Scholar and a Palmer Scholar, respectively.