India Latest
Visitors: 1235
---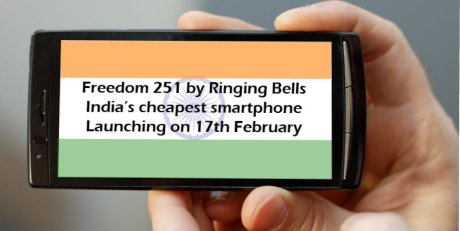 Ringing Bells Freedom 251 'Cheapest Smartphone'
NEW DELHI: Ringing Bells, a little-known company that ran into controversy after announcing a Rs 251 'smartphone', today (14-Jun-2016) claimed it will start deliveries of the handset to customers from June 28.
Freedom 251 Mobile Phone Configuration
According to media reports, Mohit Goel, CEO of Noida-based firm Ringing Bells Pvt. Ltd., has said that the company will start shipping "Freedom 251" from June 28 in cash-on-delivery (COD) mode to those who had pre-booked the device.
Freedom 251 Confirmation SMS/E-Mail Sent to those who had successfully ordered the Freedom mobiles.
Freedom 251 delivery date
Freedom 251 delivery status
Freedom 251 delivery details
Freedom 251 delivery information
---
Popular Post(s)...

/Hit Video Songs

/Hit Video Songs

/Hit Video Songs

/Hit Video Songs

/Hit Video Songs