100 Smart Cities, AMRUT for 500 Cities & Housing For All By 2022 – Massive Urbanization Projects
India 100 Smart Cities
Rs 48,000 crore would be spent on creating 100 smart cities across India. Based on the population and area, a fix number has been allocated for each state. Hence, Uttar Pradesh, the most populated state will get 13 smart cities, meanwhile Tamil Nadu will receive 12 smart cities. Maharashtra will get 10 cities, while Karnataka and Gujarat will get 6 each. West Bengal and Rajasthan has been allocated 4 smart cities; Bihar, Andhra Pradesh and Punjab there each and Odisha, Haryana, Telangana and Chhattisgarh will get 2 smart cities each. Jammu and Kashmir, Kerala, Jharkhand, Assam, Himachal, Goa, Arunachal and Chandigarh, along with National Capital New Delhi will get one smart city each.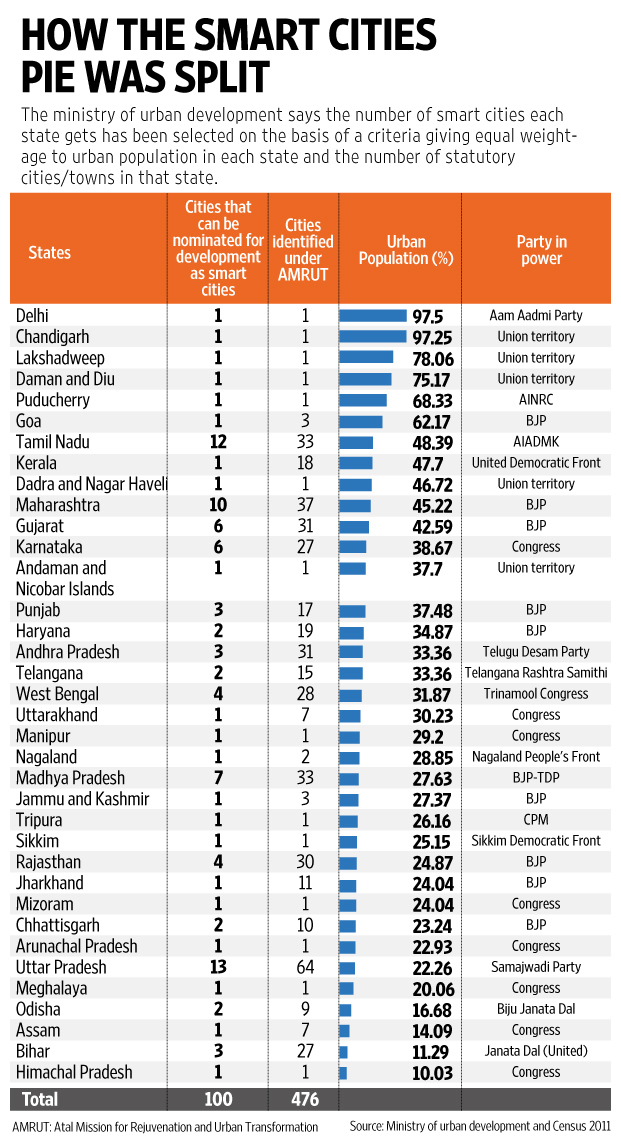 India AMRUT for 500 Cities
Atal Mission for Rejuvenation and Urban Transformation (AMRUT) for 500 Tier 2 and Tier 3 cities will also be launched along with smart city project. For AMRUT as well, states have been asked to recommend cities which can be included under this scheme. UP again leads the pack, as they can nominate 64 cities under this project. Here is the breakdown for different states:
Tamil Nadu: 33 cities
Maharashtra: 37
Gujarat: 31
Karnataka: 21
Andhra Pradesh: 31
Rajasthan: 30
West Bengal: 28
Bihar: 27
Odisha: 19
Haryana: 19
Kerala: 18
Punjab: 17
Telangana: 15
Chhattisgarh: 10
Under this scheme, Central Govt. will provide 30% of the overall cost, if the city has a population of more than 10 lakh; and 50% if under 10 lakh.
Pradhan Mantri Awas Yojana: Housing for All by 2022
"Housing for All by 2022" scheme, wherein more than 2 crore homes would be build across all the urban locations in the next 7 years. Central Govt. will provide a grant of Rs 1 lakh to Rs 2.5 lakh for every home.
Indian real estate market, which has been experiencing a sluggish growth rate since last couple of years, will be certainly delighted with the launch of these Govt. sponsored urbanization projects as more than Rs 4 lakh crore is expected to be invested directly or indirectly into the real estate market, on a national level.
The vision is to provide a home to everyone living in a urban city.
Women, SC/STs and people from Economically Weaker Sections (EWS) would be the main beneficiaries of this urban housing project.