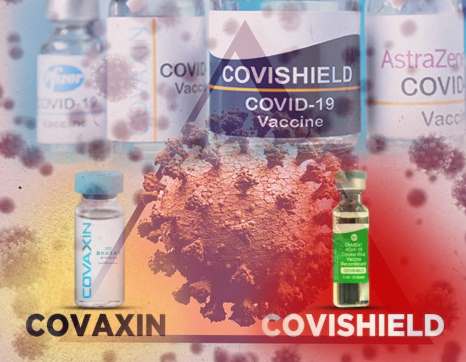 Covid-19 -Delta variant Indian variant" B.1.617
The World Health Organisation has a new naming system, using the Greek alphabet, for coronavirus variants of concern. The Delta variant was previously known as the "Indian variant", as it was first found in India. It's one of three sub-lineages of the Indian variant, and is also known as B.1.617.
"UK variant" B.1.1.7 and "South African variant" B.1.351, the "Indian variant" B.1.617 is another variation of the virus that causes COVID-19. the variant was first identified in Maharashtra, India, in October,and spread to more than 40 other countries, including Australia.
CORONO -DELTA VS Covaxin
A study by researchers from the National Institute of Virology in Pune, the Indian Council of Medical Research and vaccine manufacturer Bharat Biotech has found that Covaxin is effective against the Beta and Delta variants of Covid-19.
CORONO -DELTA VS Covishield
A preliminary study conducted by the All India Institute of Medical Science (AIIMS) Delhi claimed that the presence of COVID-19 Delta variant (B1.617.2) is predominantly found even after getting a single dose or both doses of COVID-19 vaccine.

The study included 63 people who got breakthrough infections; of which 36 patients received two doses, while 27 had received one dose of vaccine.
Differences between Covishield and Covaxin
| | |
| --- | --- |
| Covishield | Covaxin |
| The interval between 1st and 2nd doses is 12-16 weeks | The interval between the 2 doses is 4-6 weeks |
| Efficacy after the second dose can vary from 70-90% | This vaccine can be 78-95% effective after the second dose |
| People above 18 years of age can opt for this vaccine | This vaccine can be injected into people above 18 years of age. |
236 million doses of the COVID vaccine have been given in India. More than 45 million people have received 2 doses of the vaccine and are considered fully vaccinated.
Top health officials in India have stated that both Covaxin and Covishield are effective against the mutated, UK/South Africa/Brazil virus.
The risk of contracting COVID after 2 doses of Covaxin or Covishiled is minuscule. A study has found 0.03% of people caught COVID after the 2nd dose of Covishield and 0.04% tested positive after the 2nd dose of Covaxin.
Difference between Sputnik V and the other Covaxin and Covidshield vaccines
| | |
| --- | --- |
| Sputnik | Covishield and Covaxin |
| Developed by Gamaleya Research Institute of Epidemiology in association with Dr Reddy's | Covishield is developed by the SII, Oxford University and AstraZeneca whereas Covaxin is developed by Bharat Biotech and ICMR |
| 91.6 percent effective | Covishield can be up to 90% effective and Covaxin has been found to be 78-81% effective |
| The interval between the 2 doses is likely to be 21 days | The gap between the doses of Covishiled and Covaxin are respectively 12-16 weeks and 4-6 weeks |