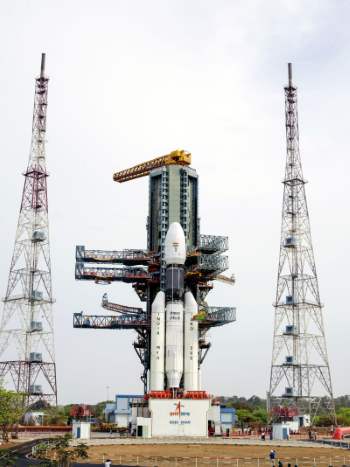 Isro to launch India's heaviest satellite GSAT-19 today (5-Jun-17)
GSLV Mk III-D1/GSAT-19 will be on June 05, 2017 at 17:28 Hrs (IST) from the Second Launch Pad at SDSC SHAR, Sriharikota.
ISRO New Workhorse GSLV-Mk III-D1 to Carry Heaviest 3136-kg GSAT-19 Satellite making it the heaviest rocket and capable of carrying huge payloads.
The new rocket launcher GSKV-Mk III is capable of launching four-tonne satellites in the Geosynchronous Transfer Orbit (GTO), placing up to eight tonnes in a Low Earth Orbit (LEO), developed with an eye on manned module launch in the future with re-entry capability.
GSKV-Mk III was ISRO's first fully functional rocket with a cryogenic engine using both liquid oxygen and liquid hydrogen as propellants. It was developed after 11 flights and 200 tests to fine-tune the components over a period of 25 years.
GSLV-Mk III will have two solid motor strap-ons (S200s), a liquid propellant core stage (L110) and a cryogenic stage (C-25), which have been tested thoroughly in static form at the Satish Dhawan Space Centre (SDSC), Sriharikota since 2010. The S200 strap-on is the third largest solid booster in the world.
Indian Space Research Organisation (ISRO) launched the country's heaviest rocket – Geosynchronous Satellite Launch Vehicle-Mark III (GSLV-Mk III) – along with a communications satellite GSAT-19 at 5.28 pm on Monday (5-06-2017).
GSLV Mk III D1 / GSAT - 19 Live Streaming today from 16:55 hrs (IST)