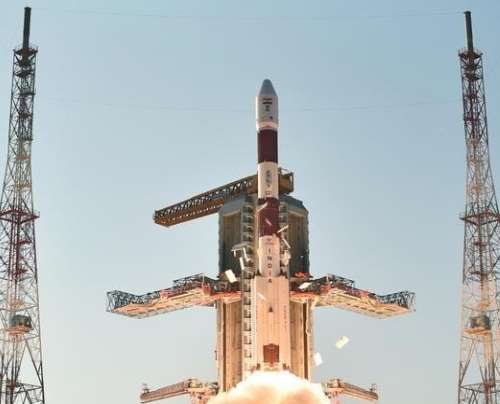 India sets new record in space mission; PSLV C34 successfully injects 20 satellites into orbit
In its thirty sixth flight (PSLV-C34), ISRO's Polar Satellite Launch Vehicle successfully launched the 727.5 kg Cartosat-2 Series Satellite along with 19 co-passenger satellites today morning (June 22, 2016) from Satish Dhawan Space Centre SHAR, Sriharikota. This is the thirty fifth consecutively successful mission of PSLV and the fourteenth in its 'XL' configuration. The total weight of all the 20 satellites carried on-board PSLV-C34 was 1288 kg.
ISRO scientists said, the vehicle had been pre-programmed for today's launch to perform tiny manoeuvring to place the 20 satellites into polar sun-synchronous orbits with different inclinations and velocities. It ensured that the satellites were placed with enough distance to prevent collision.
ISRO began launching foreign satellites on board PSLV in May 1999. Since then, it has gained popularity, as it launched foreign satellites successfully using PSLV by charging only 60% of the fee charged by foreign space agencies. It has so far launched 57 foreign satellites.
Apart from Cartosat-2, the satellites launched on Wednesday include Lapan-A3 from Indonesia, Biros from Germany, M3MSat from Canada, SkySat Gen2-1, a Google-made satellite from USA, GHGSat-D from Canada, 12 Dove satellites from USA, Sathyabamasat from Sathyabhama University, Chennai and Swayam from College of Engineering, Pune.